The type of housing crisis Massachusetts may be experiencing right now is distinct from the crisis Springfield is likewise enduring in particular. In most places around the state, affordable housing can be hard to find. People who can't afford better housing may indeed be flocking to Springfield simply because there are no other decent options. And some might even say that Springfield itself is not a decent option, given the condition of some of its deteriorated—yet "affordable"—housing.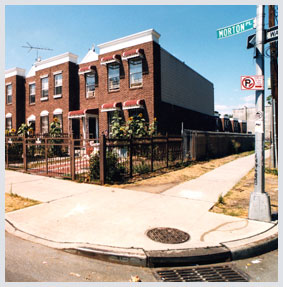 Two salient needs emerge: the improvement of low-income housing conditions where such housing exists, which may be accomplished in part by mixing housing income levels and/or uses (such as what's been proposed for Springfield's South End and Hollywood district); and the increase of low-income housing where it does not exist, but in regions where there appears to be a demand. In other words, spread out, but do it by maintaining some degree of density. This is a challenge on many fronts and requires cooperation across disciplines.
An exhibit running through December 22 at MIT's School of Architecture and Planning, "Policy and Design for Housing," is taking a look at affordable housing issues. MIT's Center for Real Estate has been taking a close look at Boston on this matter. From the school's Web site:
Recent findings of the Housing Affordability Initiative include the discovery that new single-family home construction in the Boston area is consuming nearly twice as much land as existing single-family housing, and that half of the region's recent new homes were built on lots of nearly an acre or more – findings with serious implications for the placement of affordable housing.
It is possible that research like this could provide food for thought not just for Boston, but for the greater Springfield region as well. If advocates for the state's third largest city were in touch with the faculty at the Center for Real Estate, they might be able to persuade developer and real estate consultant Peter Roth, who is teaching (PDF) a class this fall on the process of developing affordable housing, to consider including some current, pressing, real-world Springfield concerns in the workshop/studio portion of the course—which includes "a proposal and public financing application for an affordable or mixed income project."
Or is the western part of the state not really considered relevant to an institution with the state's name in the title?